One for the Books: An Intern's Experience at BrandStar
I'm Stamatina, a third-year telecommunications student at the University of Florida. In the summer of 2019, I was lucky enough to intern at BrandStar. As my first internship, this was my initial opportunity to get my foot in the door of the media industry. I had no clips or real work experience—only a high GPA from a highly rated journalism school. After interviewing with an HR representative, I received an offer to join the intern team a few days later.
The Moment of Truth
On my first day, I was pretty nervous. I wasn't sure what to expect. When I arrived at BrandStar, I was astounded by the state-of-the-art facility and the sheer range of services the company provided. Most importantly, I knew I'd spend an entire summer learning about all the divisions and getting introduced to segments of the media industry I never knew existed.
Upon meeting our supervisors, everyone was so friendly and welcoming. Most of the interns were also experiencing their first internship, so we were all in similar positions. For the first couple of days, we did a lot of research on our new work home and learned a lot about each other. Spending time together at the beginning was extremely beneficial for our collaboration on major projects at the end of the summer.
Finding My Footing
I was placed as a copywriting intern under the creative team. Accordingly, my writing skills grew exponentially as I was challenged to write for different audiences. Each blog had a different target audience, and produced a new piece almost every day. Not only was I handed a great opportunity to push myself, but I was also trusted immediately to write blogs that would be published on BrandStar's website or the website for one of the shows the company produces. Although this responsibility was intimidating, I'm incredibly thankful for the support and trust I received from my team. After starting the summer with no clips, I ended with an entire blog project that I could call my own.
Making Our Mark
By the end of the summer, group projects began to pick up. We created merchandise for Thank You First Responder, a nonprofit partner of BrandStar Cares, the philanthropic branch of the company. Our final project involved creating a new internship program for summers to come. Each week, we had meetings to discuss first what we liked at work and what had the potential to be better. We would check in on each other and monitor the group's progress. Both projects taught us how to productively and efficiently work as a group. Additionally, we learned the process of bridging creativity with business and the art of professional communication.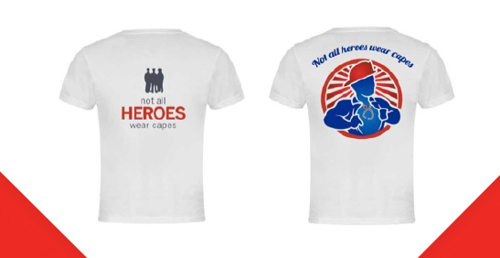 The Journey Continues
My work with BrandStar didn't stop when summer ended. Fortunately, the company kept me on with the creative team as a part-time employee. I continue to write blogs for BrandStar and am gratified by the faith my team places in me. I attend to school full time and get to do professional work in my industry on the side. Publishing real content that I wrote and researched makes me feel accomplished and confident. Most importantly, I would never have received this opportunity if BrandStar hadn't given me the room to grow as a writer.